Çırağan Cad. No:36 34357 Ortaköy / İstanbul · Phone: +90 212 227 4480 · Fax: +90 212 260 5345
21-24 November 2013
Galatasaray University, İstanbul, Turkey
Objectives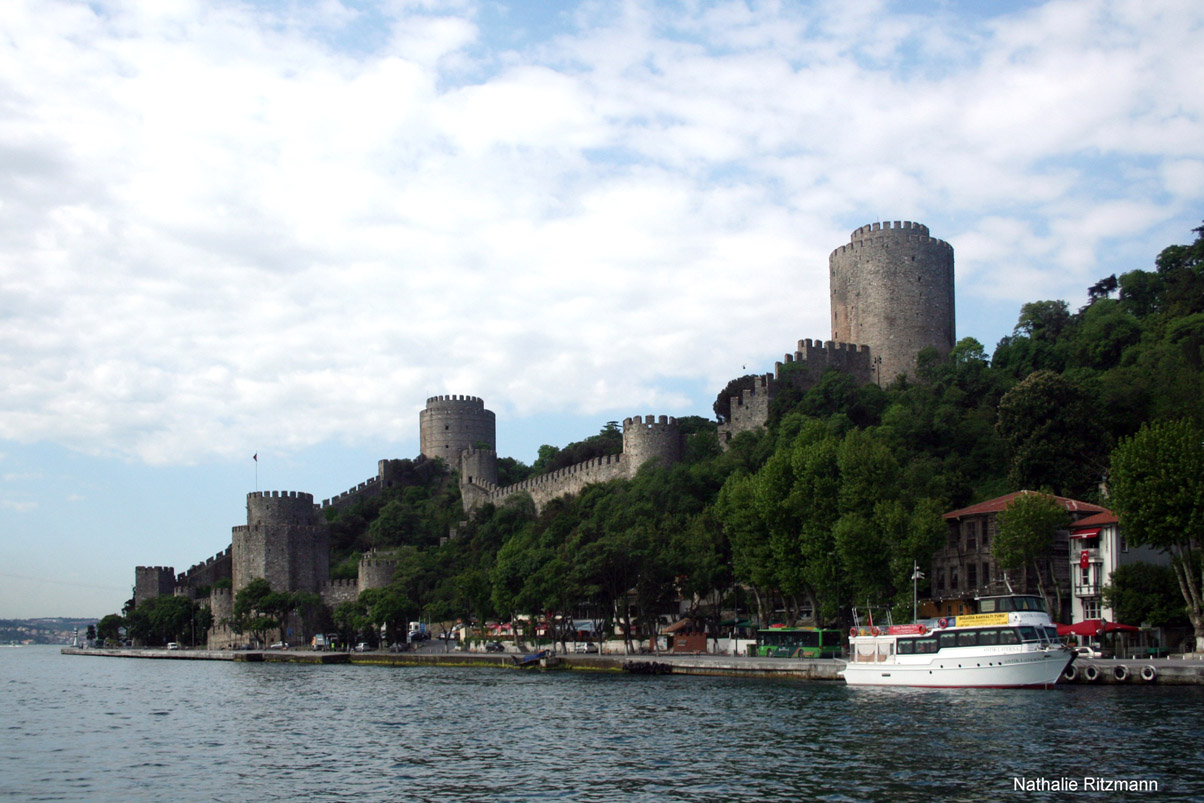 This is the first joint meeting of Japanase and Turkish geometers. Topics include Teichmüller spaces, mapping class groups, monodromy and algebraic geometry, arithmetic geometry hypergeometric functions, singularities.

There will be a possibility for young researchers to present short research talks and make poster presentations.

More information: Schedule and Abstracts

We are happy to announce that there will be a satellite meeting right after the meeting. For more information, click here.


Photo: Nathalie Ritzmann

Scientific Committee
Organizing Committee
Speakers
Program
Schedule is announced
here
.
Application
Registrations are now closed.
Location
J-T Geometry Meeting and Satellite Mini-Symposium will be located in Galatasaray University Yıldızhan Yayla Salonu.

Registration Fee
50 Euro (Junior), 100 Euro (Senior)
Those who cannot cover this expense from their grants should get in touch with the organising committee.

J-T Joint Geometry Meeting Satellite Mini-Symposium
The program for mini-symposium can be accessed here.

Prof. Jiro Sekiguchi and Dr. Tadashi Ishibe are organizing a mini-symposium during the period 25-26 November, after the Japanese - Turkish joint Geometry Meeting. Those who are interested in giving a talk during the mini-symposium can contact the above mentioned organizers or Prof. Susumu Tanabe.


Help
When you need a help, please contact with the organizing committee.
Hotel Info
The official hotels of the workshop are Harem Hotel and Yeni Saray Hotel. (subject to change) In case you prefer a more comfortable stay, you may make your own hotel reservation, preferrably in the quarters of Galata, Cihangir, Beşiktaş, Ortaköy or Üsküdar.
How to reach Galatasaray University?:

Galatasaray University is 24 km away from the İSTANBUL ATATÜRK AIRPORT. Right in front of the exit door of the Ataturk International Airport, take the HAVATAŞ bus to TAKSİM (40 mn, 10 TRY) and get off at the last stop, TAKSIM SQUARE (for detailed information about HAVATAŞ buses please visit http://havatas.com/en/coach.aspx?i=1 ). Then either take a taxi (15mn, ~15 TRY), or take a bus and get off at the stop Galatasaray University. The number of busses are: 40 (Taksim - Sarıyer), 42T (Taksim - Bahçeköy), 40T (Taksim - İstinye - Dereiçi), DT1 (Taksim - Ortaköy Dereboyu), DT2 (Taksim - Ortaköy Dereboyu).

Second possibility, from İstanbul Atatürk Airport to Galatasaray University is taking a taxi (45 mn, ~70 TRY).

Finally, you may take the metro from İstanbul Atatürk Airport and change to tramway at the Zeytinburnu station. Get off at the last stop in Kabataş. From Kabatas taxi costs 8 TRY, there are also regular buses (get on the bus going to Ortaköy direction).

If you are coming from Sabiha Gökçen Airport, take the HAVATAŞ bus to TAKSİM (~1.5 hr, 17 TRY) (for more detailed information, please visit http://havatas.com/en/coach.aspx?i=2 ).

Keep in mind that, Atatürk Airport is more closer than Sabiha Gökçen Airport to the Galatasary University.

Local Information:

Galatasaray University is at 10-15 minutes by walk from both Beşiktaş and Ortaköy. If one wants to take a bus to University, he/she can take any bus working on the shore (for example, the number of busses from Kabataş: 22, 22RE, 25E; from Ortaköy: 40, 40T, 42T, DT1, DT2).

The best way to reach Galatasaray University from Anatolian side of the city is to take a boat to Beşiktaş from Kadıköy or Üsküdar.

For Metro, Tram, Ferry 9and Busses either you can use Akbil (1.95 TRY per trip, and you can charge your Akbil Card) or use tickets (1 ticket: 4 TRY, 2 ticket: 7 TRY, 3 ticket: 10 TRY, 5 ticket: 15 TRY, 10 ticket: 28 TRY).

Time Schedule of IDO Ferries: http://sehirhatlari.com.tr/en
Istanbul Rail Network Map
http://www.istanbul-ulasim.com.tr/media/8540/erisim_2200px_1546px-01.jpg
Bank Services:

In general Banks are open between 8:30 - 17:30 from Monday to Friday.

Currency:

The currency in Turkey is Turkish Lira (TRY). Actually 1 US $ = 1.95 TRY and 1 Euro = 2.60 TRY (August 20, 2013).

Drinking Water:

Although it is safe to drink tap water, it is recommended to buy bottled drink water which can be found almost everywhere at stores. There are several supermarkets in Beşiktaş which is 15 minutes on walk from GS University. You can safely brush your teeth with tap water.

Electricity:

The electricity supply is 220 V, 50 Hz, with the type of sockets which are standard in most European countries.

Language:

In Turkey the official language is Turkish. The Turkish language comes from Central Asian Languages Family and very different from the european languages. The Turkish alphabet is based on the latin alphabet. In general, in Istanbul many people talk English and you can easily communicate with other people. As İstanbul is a touristic city you can find many tourism offices.

Phone Information:

As it belongs to two continents in İstanbul there are two geographical regions : European and Asian sides. The local telephone code of European side is 212 and the one of the Asian side is 216. The national telephone code of Turkey is 90. All of the telephone numbers consist of 7 digits. For example telephone number of Galatasaray University is 2274480 and the code of the European side is 212. So if you want to call Galatasaray University from Asian side the number transforms into 0 212 2274480. If you want to call the same number from abroad it transforms into 00 90 212 2274480. There are prepayed telephone cards of Turkish Telecom specially designed for calling abroad.

Shopping:

Almost all of the shopping centers are open every day until 22:00 hours.

Safety:

Beware of dangerous and inconsiderate driving, especially when crossing roads. Even if you are on a pedestrian crossing, look carefully before crossing. Turkey is a comparatively safe country as far as crime is concerned, but it is best to take reasonable precautions against pickpockets in crowded areas.

Time Zone:

The time zone is 1 hour later from Central European Time Zone, 2 hours later from the Greenwich Mean Time.

Visa information for foreigners (general):

http://www.mfa.gov.tr/visa-information-for-foreigners.en.mfa"
Research Activities at GSU
Journees Arithmetiques (2019)
CIMPA/TÜBİTAK/GSU Summer School:
Algebraic Geometry and Number Theory (June 2-10, 2014)
Japanese - Turkish Joint Geometry Meeting (November 21-24, 2013)
İstanbul Number Theory Meetings (February 16, March 16 2013)
İstanbul Workshop on Teichmüller Theory (October 11-14, 2012)
İstanbul Workshop on Fixed Point Theory and Applications (October 11-14, 2012)
Functoriality and Correspondence
(March 30 - April 27, 2011)
CIMPA/TÜBİTAK Summer School:
Geometry and Arithmetic Around Teichmüller Theory (November 15-19, 2011)

CIMPA/TÜBİTAK Summer School: Commutative Algebra and Applications to Combinatorics and Algebraic Geometry
(September 12-25, 2010). Co-organized with Feza Gürsey Institute
GTEM/TÜBİTAK Summer School:
Geometry and Arithmetic around Galois Theory
(June 08-19, 2009).
GTEM/TÜBİTAK Summer School:
Geometry and Arithmetic of Moduli Spaces of Coverings
(June 09-20, 2008).
CIMPA Summer School:
Arrangements and Local Systems and Singularities
(June 11-22, 2007).
EMS Summer School:
Arithmetic and Geometry Around Quantization
(June 05-15, 2006).
CIMPA Summer School:
Arithmetic and Geometry Around Hypergeometric Functions
(June 13--25, 2005).
Venue
The conference venue is Mathematics Department of Galatasaray University, and its address is
Galatasaray University
Department of Mathematics,
Çırağan Caddesi, No: 36,
34357 Ortaköy, Beşiktaş,
İstanbul / Turkey.
To be familiar with the location of the Galatasaray University campus, and some hotels, please overview the interactive Googlemaps below. Please read the Useful Info part to learn how to reach how to reach Galatasaray University.
Googlemaps
Registered Participants
Kursat Aker
Ayşegül Akyol
Arzu Boysal
Kazim Buyukboduk
Ozgur Ceyhan
Zübeyir Çınkır
Çağlar Çınar Çinibulak
Alex Degtyarev
Sultan Erdoğan Demir
Asli Deniz
Buse Fırat
Sergey Finashin
Hidekazu Furusho
Ayhan Günaydın
K. Ilhan Ikeda
Masaharu Ishikawa
Fatma Karakuş
Ohshika Ken'ichi
Oka Mutsuo
A'Campo Norbert
Burak Ozbagci
Özer Öztürk
Celal Cem Sarıoğlu
Jiro Sekiguchi
Mehmet Haluk Sengun
Ali Sinan Sertöz
Esra Şengelen Sevim
Serkan Sutlu
Berrin Şentürk
Hiroaki Terao
Kazushi Ueda
Semail Ülgen
Fırat Yaşar
Bengi Ruken Yavuz
Yasemin Yilmaz
Saadet Öykü Yurttaş